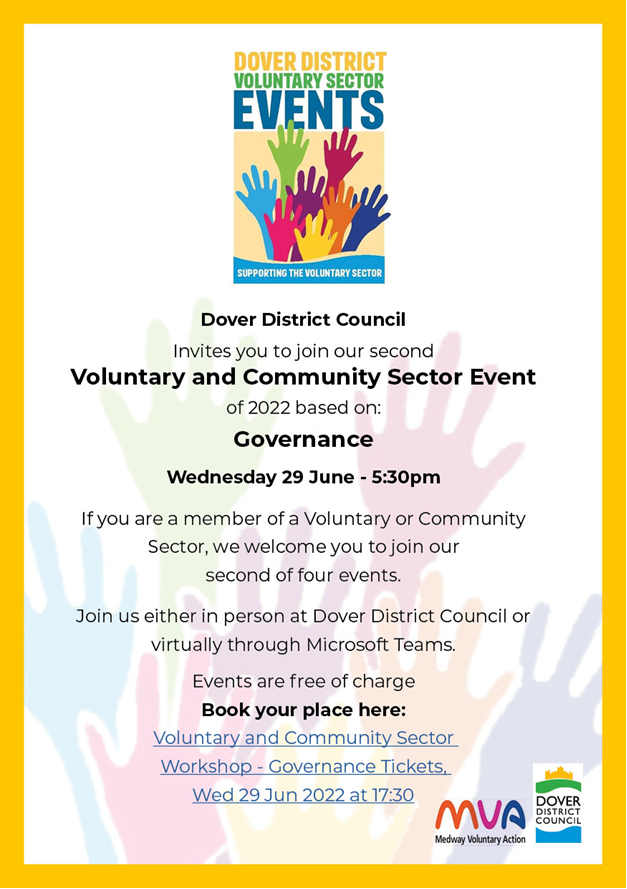 Join us and learn all about Governance
Whether you are an existing group or organisation, or would like to start a new one, Governance can be a complex subject.
We are delighted to host Medway Voluntary Action (MVA) who will be presenting some key points about the topic.
This FREE event will be presented in two sections; one half for new groups with information on how to formally set themselves up, and the second half covering topics for existing groups.
Please see our programme below for more details:
Part 1 for Individuals/Start-ups:
Legal structure
Sample documents and where to find them
How to set various structures up
Where to go for additional support in your area
Q&A
Part 2 for incorporated/established groups/organisations and a follow on from part 1:
Legal structure
Charity governance code - seven principles
Seven duties of a company director
Other things to consider - Recruitment of Trustees/Directors, AGM, Meetings, Accounts etc.
Q&A
Come along to the Council Chambers at the DDC offices in Whitfield (seats are first come first served) or join us online via the Microsoft Teams link
Please book your place here - we look forward to seeing you!