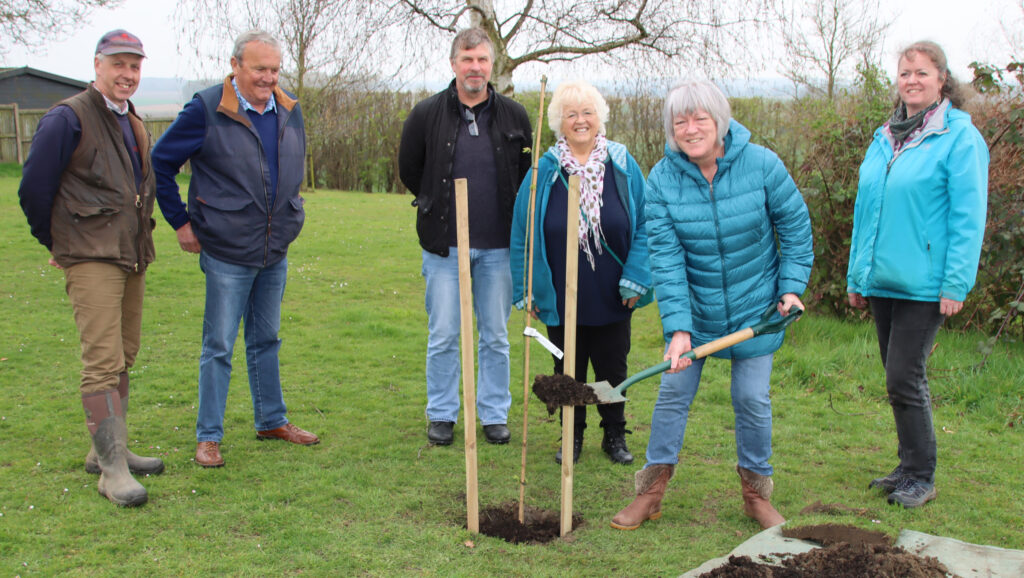 Ulmus x "Wingham"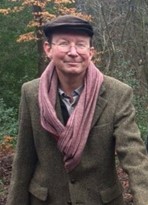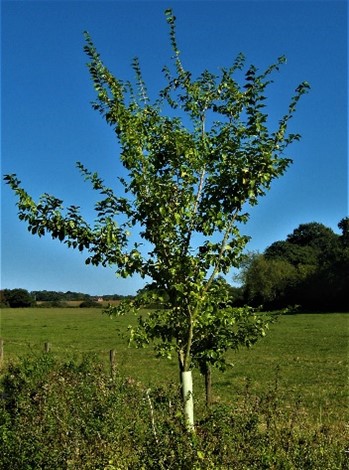 Developed by an Italian research team, the tree was named Ulmus x 'Wingham' by Elm enthusiast, the late Dr David Herling. Dr Herling first contacted Wingham Parish Council in August 2019 to inform them about a new disease-resistant elm that had just entered into commerce, bearing the name Ulmus x "Wingham". The tree was selected by Dr Herling at a trial site in Italy for its vigour, agreeable appearance, and proven very high tolerance of elm disease. He grew four specimens on land he owned in Wingham and told the Council that the best of them grew 25 foot in five years, which is roughly double the rate of growth of English elm. At that time the tree was being marketed by the Frank P. Matthews "Trees for Life" nursery in Worcestershire (see below). Since they needed a common name for it, Dr Herling suggested "Wingham" as a gift to the village which he had known for 30 years. The tree is a hybrid, naturally, but is 3/4 derived from native European elms.
In further correspondence with the Parish Council in September 2019, Dr Herling added he had back-crossed the Wingham elm with a field elm from Tonge Mill near Sittingbourne (a fine surviving stand of mature trees) to produce a considerable progeny. He said they were planted out at his trial site at Wateringbury, and he had tested them for resistance by inoculating them with a particularly aggressive strain of the fungus prepared for him by the former chief pathologist of Forest Research. Each plant is genetically distinct from every other one. The majority suffered badly or very badly, but one was completely free of symptoms. It is 7/8ths European, morphologically indistinguishable from "native" elm, ramrod straight, and vigorous. He added another two were doing pretty well and as far as he was aware, this was the only exercise in elm hybridisation to take place in this country for more than 100 years. The Wingham Elm therefore comes with an interesting family. Forest geneticists at Kew, and the chairman of the Forestry Commission, were watching closely.
Dr Herling was due to write a piece for this website and the Wingham Community Newsletter, but sadly passed away after a short illness in March 2020 before completing the article.
On seeing a picture of the tree being planted at Walmer Castle and Grounds in October 2021, the Clerk researched the tree once more and sourced a tree via colleagues of Dr Herling from Peter Shallcross, a Wiltshire dairy farmer and butterfly enthusiast, who retails elm cultivars on a non-profit basis to aid the conservation of the White-letter Hairstreak butterfly, now on the IUCN Red List. The tree arrived on 31 January, and after a short stay in the clerk's garden, was planted at Elgars Field, Preston Hill, Wingham on Wednesday 30 March 2022.
Peter Shallcross knew David Herling well and learnt a great deal from him about elm trees. He said that his legacy is large in the world of elms not least because he was the first person to have produced UK grown resistant cultivars which may well form the basis of a future breeding and production programme.
Description of the Wingham Elm by Frank P Matthews Nursery:
Description: A new variety of Elm that has shown the highest resistance to DED of all new hybrids is now being successfully propagated here in Worcestershire.
This elm is also an excellent host for the rare UK native White-letter Hairstreak butterfly (Satyrium w-album). Numbers of the butterfly declined dramatically in the late 1960s (after the first outbreak of the well documented lethal strain of DED) as they rely on Elm trees for breeding habitat. The planting of selected Elm hybrids has helped the butterfly to recover in recent years.
This is a worthy new introduction to add to the British countryside.
History: Developed by an Italian research team, the tree has been named Ulmus x 'Wingham' by Elm enthusiast Dr David Herling who first planted it at Wingham village in Kent where it has produced over one metre of growth a year on the local alluvium soil.
Ulmus Growing Tips: Tolerant to a wide range of conditions but prefers moist, well drained soils in full sun. Tolerates urban pollution as well as coastal locations.
Height and Spread (after 10 years): 7m x 4m
WINGHAM ELM IS ADDED TO THE QUEEN'S GREEN CANOPY MAP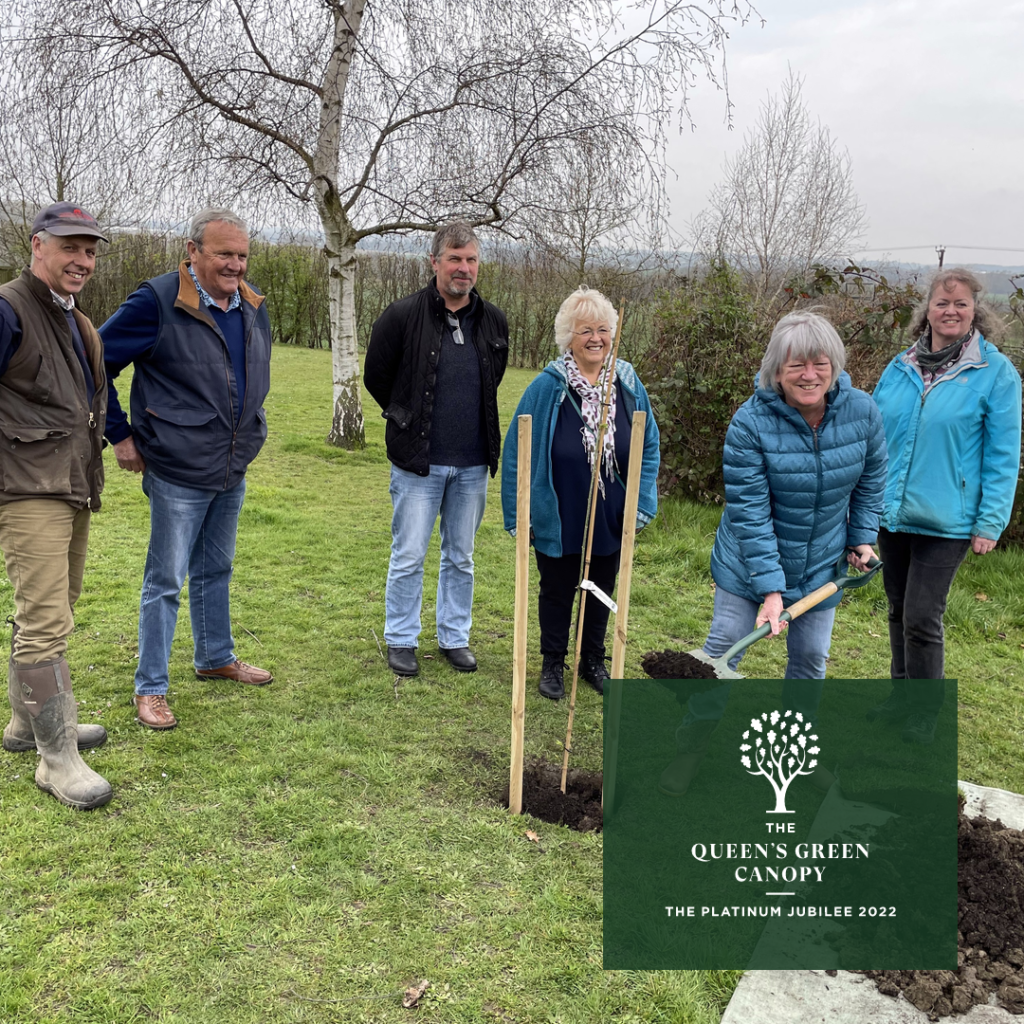 We are delighted to say that our Jubilee tree planting has now also been uploaded to The Queen's Green Canopy (QGC) map and we've been sent the above QGC virtual plaque. You can find out more about the QGC Map here: https://queensgreencanopy.org/ and you can follow their digital channels on Facebook, Twitter and Instagram where they will be sharing Jubilee tree plantings throughout the official planting season from October to March. #QueensGreenCanopy #plantatreeforthejubilee
A new website on dutch elm disease (DED) resistant elms has been been developed by Andrew Brookes with help from other elm tree enthusiasts and experts. The website covers a broad range of aspects of the DED elms and includes a section on suppliers of trees. https://disease-resistant-elms.org/
Further information on the tree can be found at these websites:-