Tuesday 18 August 2020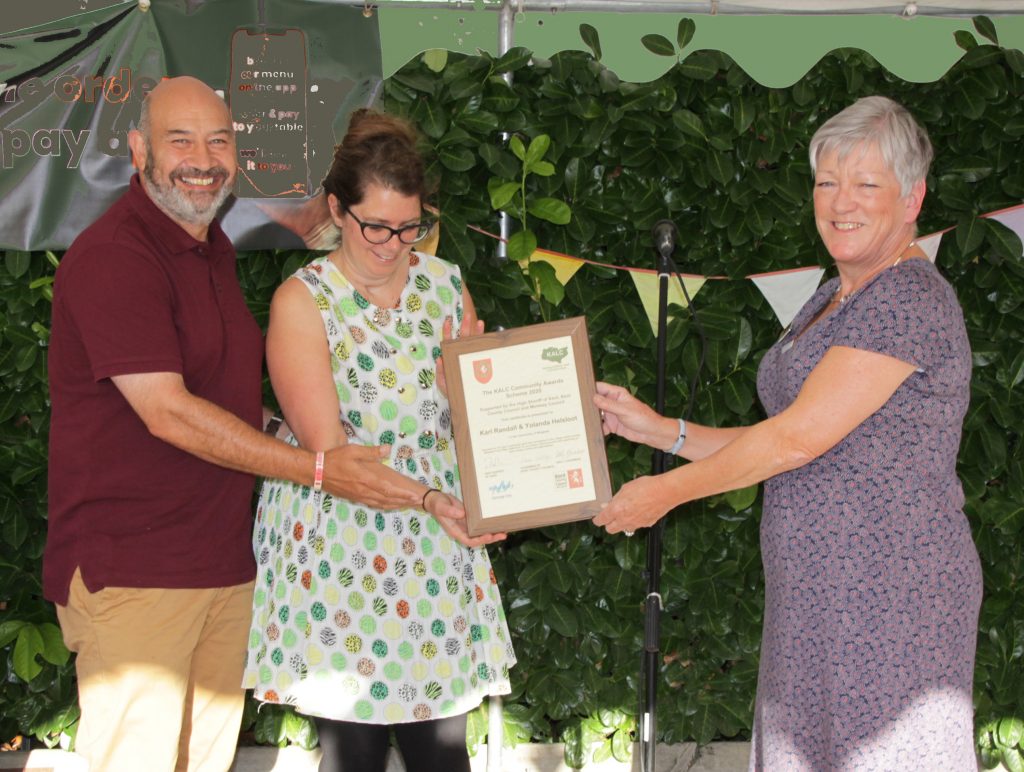 Every year we ask you to nominate Wingham residents or community groups for our two Community Awards, the Parish Council's 'Jack Jolly Award' and The County Association award 'The KALC Community Award'.
All the nominations received are discussed at a Parish Council meeting and the successful recipients agreed.
Thank you to everyone who took part by sending us nominations this year.
Unfortunately, we could not hold the Parish Assembly this year where these awards would usually be presented and so we are so grateful to Michelle and Kevin for allowing us to hold the presentation event in The Anchor Inn garden on what was a lovely, sunny and sociable (but distanced!) evening. We are also grateful to Gareth Winters for taking photos of the presentations.
THE JACK JOLLY AWARD was presented by last year's recipient, Dave Ivatt, to Mike and Lynne Conolly.
This award was first presented in 2015 by the Parish Council and was established by the council to honour Jack's memory. Jack was a Parish Councillor in Wingham for 18 years until October 2013, having previously served on Goodnestone Parish Council for 16 years. As well as Chairing the Planning Committee, Jack carried out weekly checks of the children's play area and regular checks of the street furniture and did much to support the community as a whole.
The award was presented to Mike & Lynne for their work each year with the Royal British Legion Poppy Appeal, organising poppy sellers and the annual coffee morning. This year will be a bit different as the Legion have said that the only collections will be via school packs, so there will be no door to door, no 'statics' in shops, pubs and businesses and no Coffee Morning.
It is also for their support of St Mary's Church through the Friends, organising various events such as the popular garden safari and scarecrow trail, annual quiz, strawberry tea and harvest supper and for the coordination of the delivery of our Community newsletter each month.
The KENT ASSOCIATION OF LOCAL COUNCILS COMMUNITY AWARD, signed by the High Sheriff of Kent, Chairman of KCC/Mayor of Medway and the KALC Chairman was presented by Parish Council Chairman, Cllr Sharon Addis, to Karl Randall and Yolanda Helsloot.
KALC is a not for profit membership organisation serving member Parish, Town and Community Councils and Parish Meetings in Kent and Medway. They help to ensure that Councillors and Clerks are better informed and provided with the tools and knowledge to help undertake our roles as efficiently and effectively as we can.
The KALC Community Award Scheme was also started and first presented by us in 2015 and has continued each year since. It was established to acknowledge and give recognition to those that have made a significant contribution to their local community.
It was fantastic to welcome back Karl and Yolanda for the evening. As many of you will know, they ran our post office from 2006 to 2019. Not only did they provide the village with a much needed and much missed service, but they also acted as a vital focal point.
They supported many village groups and organisations in many 'unseen' ways as well as providing a venue and resources for events, such as the scouts garage sales and coffee mornings and refreshments for the annual community carols.
Your nominations for 2021 recipients will be requested at the end of 2020 and will be discussed by Council early next year.