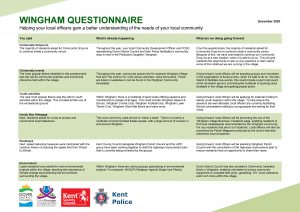 On behalf of Dover District Council, Kent Police and Kent County Council, we want to thank everyone for getting involved in the Wingham Questionnaire earlier on in the year.
We know its been a challenging year, however we wanted to share some of the positive projects we're intending to roll out thanks to your responses. Together with Wingham Parish Council, we have published our results online through the Wingham Parish Council Website and across social media.
We will also display results in noticeboards and in local businesses across Wingham.
Once again, a big thank you to residents of Wingham for your continued support and we do hope you have a very Merry Christmas and a Happy New Year
E.Allen DDC Community Development Officer & PCSO J.Brooks