Sunday 12 November 2023
Thursday 16 November 2023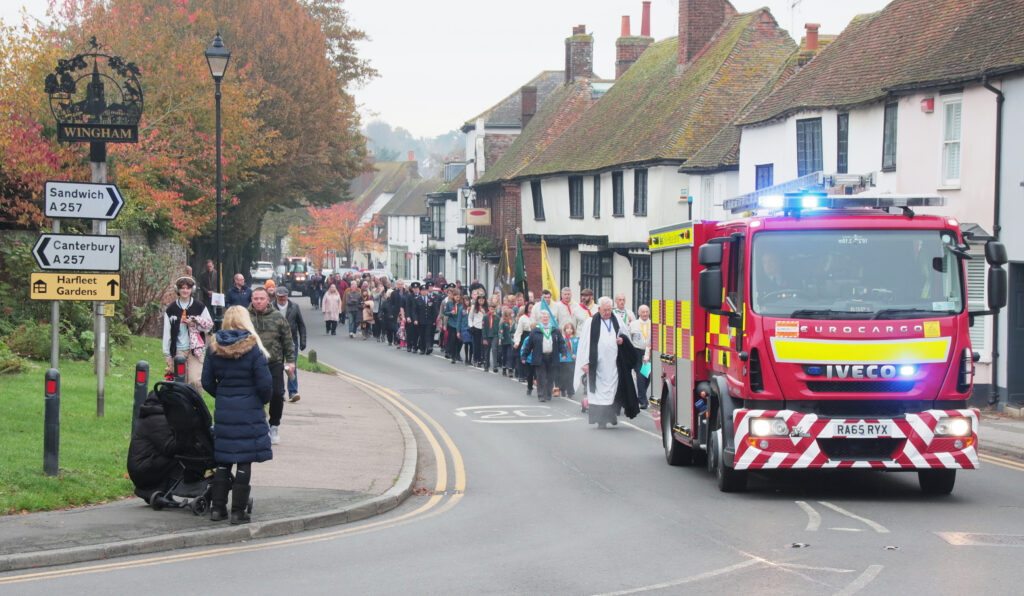 There was the usual fantastic turn out for the Wingham Remembrance Parade on Sunday 12 November, starting from the Wingham Remembrance Garden in the High Street and ending at St Mary's Church in Canterbury Road where the Remembrance service was held, led by Canon Reg Humphriss.
It was lovely to see veterans joining the parade along with all sections of the 8th Deal (Wingham) Scout Group, Wingham KFRS crew, Canon Reg Humphriss, the Parish Council Chairman, Parish Council members and residents.
The volunteer marshals did an excellent job of ensuring the safe procession of the parade by closing the roads and reopening after safely entering the church. The Parish Council would like to thank all volunteers, including First Aiders, who helped make the parade both safe and enjoyable.
During the service wreaths were laid beneath the memorial plaque, hymns were sung and we heard information from members of the Scout Group about one of the Wingham servicemen named on the War Memorial, Flight Sergeant Alfred Gardener. More information on other men named on the Wingham War Memorial can be found on our website here: https://wingham-pc.gov.uk/wingham-war-memorial/.
The retiring collection will be added to the Wingham Parish contributions to the Royal British Legion.
More photos from Gareth Winters and Kerry Coltham:-